Video Conferencing Tips/ZOOM Tips
Download Zoom client for meetings here:
https://zoom.us/download
What you will need:
Laptop or desktop computer with a webcam and microphone (alternatively a smartphone or tablet)
The Zoom video-conferencing app and a Zoom account (free)
Stable internet connection
High-speed Internet connection: minimum of 20 Mbps download and 2 Mbps upload (You can check this by simply opening the website speedtest.net. You will automatically be provided with the results)
Other recommendations to improve your video conference call:
Ethernet connection wired directly to the router (laptops without an Ethernet port will need a USB adapter)
Quality USB microphone (Snowball, Yeti Nano or Yeti by Blue are recommended)
Headphones or earbuds
Physical Setup
Adjust computer/camera height and angle. Try to get the camera at eye level.
Sound environment. Find a quiet place free from errant noise. Try to pick .
Consider using headphones or earbuds so the call audio is not picked up by your microphone.
Consider placement of mic if you're using an external mic. Closer to the sound source is better.
For lighting, avoid windows/lights behind you. Good lighting is key. Face a source of light, like a window, so that your face is lit up and you're not backlit.
Close all other apps on your computer. (provides more computer power & prevents pop-ups)
Plug your computer into the router using an ethernet cable if available. This provides a faster and more stable connection.
Joining a Meeting
Join using computer audio - a pop up will ask you to choose this. Make sure you video is ON Make sure your audio is ON
User Interface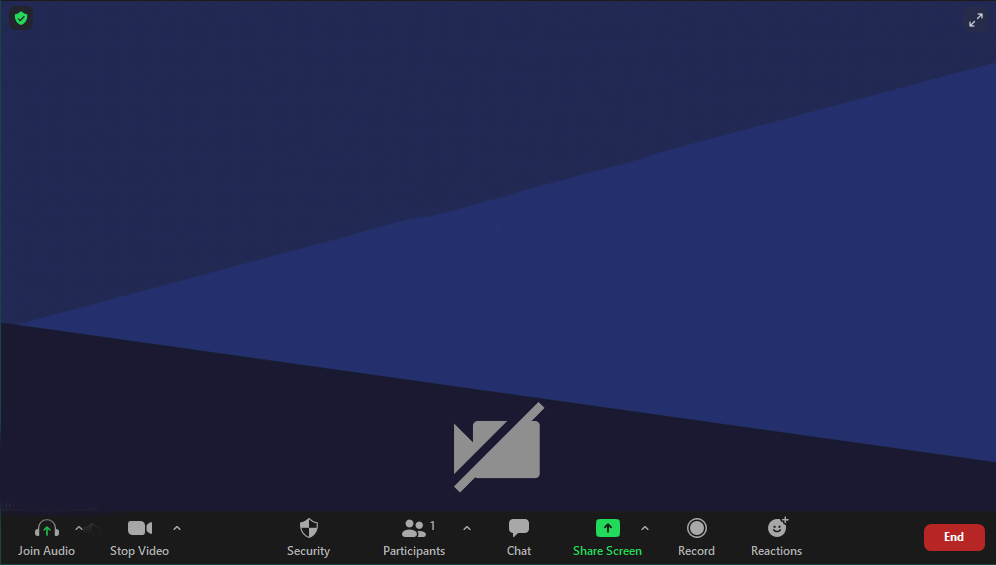 Bottom Row from Left to Right
Turn on/off audio and audio settings.
Turn on/off video and video settings.
Security settings (host only).
View participants and participant settings.
View chat.
Share screen and screen sharing settings.
Record meeting.
Chat reactions.
End call button.
Choose how you view yourself and other participants on your screen with the button on the top right. Gallery view/speaker view/pin video.